Simon Crack's
Magic Store

Welcome to my magic store! After many emails asking "Where can I buy Rubber Cement" or "Can I buy a penny change gimmick from you?" I have finally opened this Magic Store. You can also sell YOUR tricks HERE.


Many of the items mentioned in my magic tutorials can be purchased for your convenience here. At the moment there is FREE Worldwide shipping on most orders! Look for "Free Ship!"


You can order with the new PayPal widget opposite or traditionally with the "Add to Cart" buttons below. When you have finished adding items click "View Cart" then "Proceed to Checkout" on the PayPal page.


All orders from my magic store are TOTALLY SECURE and processed independently by PayPal. You can still purchase items even if
you do not have a PayPal account!


TIP: FULL MONEY BACK GUARANTEE IF YOU ARE NOT COMPLETELY SATISFIED WITH YOUR PURCHASE!
UK. SSL Secure Site.

If you have any questions with your order contact me HERE.

FreeMagicTricks4u Kit
• Penny Change Gimmicks
• 2 x Neodynamic Magnets
• Invisible Thread
• Ball of Magicians Wax
• Rubber Cement 4oz Bottle
• eBook Mindblowing Magic
• Used for many of the tricks on FreeMagicTricks4u

ONLY $37 Free Ship!



Mindblowing Magic
• One Massive eBook
• Over 50 Magic Tricks
• Universal PDF Format
• Bonus New Effects
• View on Laptop/Phone
• Money back Guarantee!
• Click here for more information

ONLY $37 Free Ship!



Dynamic Coins
• Easy to Do
• No Slight of Hand
• Great Visual Magic
• Amazing Coin Trick
• Precision Brass
• A great gift
• View performance
video HERE.

ONLY $27 Free Ship!


---

Penny Change Gimmick
• 1 x Gimmicked Pen
• 1 x Normal Pen
• Used in PENny Change

ONLY $17 Free Ship!



Rubber Cement 4oz
• 1 x Bottle
• 4oz (118ml)
• Used in Pen in Arm

ONLY $10 Free Ship!



Magic Tutorial CD
• Learn nearly 60 Tricks
• View on Computer
• Click for more info

ONLY $17


---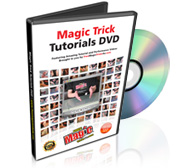 Magic Trick Tutorials DVD
• Learn Stunning Magic
• Over 40 Tutorial Videos
• View with DVD player or PC
• Extra eBooks accessed from PC
• Click for more info

ONLY $37




---
Do you have Magic Tricks to Sell
or Are you looking to buy some?
Do you have any used magic tricks in good condition you no longer need or want? Maybe you have invented your own trick. Well, this place may help!


You can enter your info in the form below. Once approved your page will go live, right here on FreeMagicTricks4u. People will be able to ask you questions too. Please don't oversell. Good, honest facts will help you make the sale. Listing here at the moment is free of charge.


Tips for listing your Magic item:
• Include a picture if possible. ("A picture is worth a thousand words.")

• Describe the item for sale accurately including condition, eg New or Used. If you know the original price you paid, include that.

• Include the price you want for the item.

• Include your contact details. A phone number, email address or both is best. (If it's an email, we will list it like name [at] domain.com rather than name@domain.com because "live" email addresses on the web can be picked up by spammers. We don't want to see that happen to you!)

• You can come back to your page, and update it by leaving a comment when it's sold. You can also enter other comments to help you make the sale or answer questions.


Sell Your Magic Tricks!
When you have filled in the form below I suggest, on the following page you choose to receive notification when someone makes a comment, that way you will know and can answer any questions. All submissions are subject to review.

Important to all buyers! Any sales are between you and the seller. FreeMagicTricks4u will not be responsible. Any disputes must be handled by the buyer and seller privately (although if you do have problems let me know).
See the Other Magic Items for Sale
Click below to see contributions from other visitors to this page...


Return From The Magic Store to FreeMagicTricks4u Home Page