Amazing Free Card Tricks
Anyone Can Do!

"Your web site is fantastic, definitely the best
web site for magic!"

Love free card tricks? Then you have come to the
right place! Card tricks are common place in a magic performance especially in street magic.


Below are a selection of great card tricks I love to perform.
With a little practice I'm sure you will too!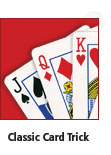 Why not check out and contribute to the free card tricks submitted by my sites visitors HERE.


For me I much prefer the alternative types of card trick such as the Spinning Card, Rising Card, and Quicksilver Card Change. All of which I'm going to teach you and more! I like the fact that people expect a boring card trick but in fact they are blown away with an amazing trick.


Basically there are three ways of discovering a spectators chosen card. One is to force a card on the spectator, so that you know what the card is. The second way is to locate the card by it position in the pack, so you can find it by looking through the pack or as you deal them.


The last way is to
control
the chosen card, by shuffling, cutting etc, which enables you to reveal it when ever you wish! I will show you all of these techniques to create amazing effects.
I will also show you some simple (and not so simple) card flourishes and manipulations that look impressive to any onlooking spectator.


You can perform most of these free card tricks with a regular pack of normal playing cards that can be purchased cheaply from your local store. However I highly recommend you purchase a pack of Bicycle Playing Cards. In my and most magicians opinion they are the best quality cards, perfect for magic tricks!


You may need a couple of additional items for some of the card tricks, such as glue, elastic, invisible thread etc. Don't worry I will point you in the right direction to get hold of these inexpensively when required. Most can be purchased from your local store, and many of the tricks require nothing but playing cards and you!


NEW! As an added bonus to this section I have hidden a free eBook card trick PDF, can you find my logo link to download it?


Ok, on with the show! Click on any of the text links or pictures to learn these cool free card tricks.



Privacy Notice: I HATE SPAM, and will never rent, sell or trade your contact information to anyone for any reason. I respect your privacy!


Click Here to Share Your Favourite Card Tricks


Return from Free Card Tricks to FreeMagicTricks4u Home Page