MAGIC TRICKS WITH CARDS:

CARTOON CARD TRICK
One of the coolest magic tricks with cards ;) Use an animated cartoon on the deck itself to reveal a spectator's freely chosen card!

THE EFFECT:  A spectator calls out any card they please, which is found in the deck by the performer and placed on the table. The performer then introduces a little stickman drawn on the back of the deck. They riffle through the deck, and the stickman comes to life, animated and pulls the spectators chosen card out of his hat!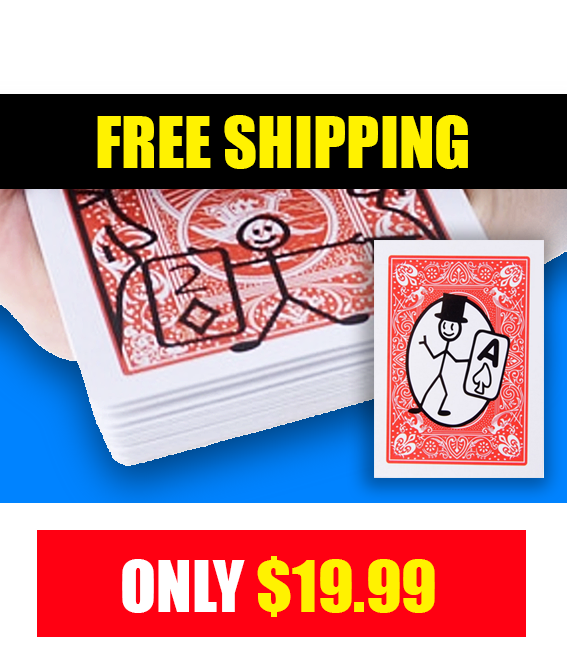 Cartoon Card Trick
• Super easy to do

• Very little setup required

• Very visual

• Perfect for table hopping

• Eye popping magic



READY TO LEARN MAGIC TRICKS WITH CARDS? LET'S GO!


> Get The Cartoon Card Trick In My Magic Store HERE With FREE Worldwide Shipping <


THE SECRET: You'll need The Cartoon Deck gimmick (or make your own!). Show your audience the top of your deck, which features a cartoon man with a magic top hat. For this trick, the deck is in a specific order and should not be shuffled, unless you can do a false shuffle. (Pic 1)


Have a spectator name any card they wish. (Pic 2)


| | |
| --- | --- |
| Pic 1 | Pic 2 |
The cards need to remain in order because on the opposite end of every card is a frame of animation. Each card has the number of the card that comes BEFORE it. This will come into play at the end of the trick. (Pic 3)


Let's assume your spectator calls out the 5 of Diamonds. (Pic 4) As you are getting this card…


| | |
| --- | --- |
| Pic 3 | Pic 4 |
…secretly do a pinky break under the NEXT card in the deck, which would be the 6 of Diamonds. (pic 5)

Place the chosen card face up, on top of your pinky break, and square up the cards as one. (pic 6)


| | |
| --- | --- |
| Pic 5 | Pic 6 |
With the 5 and 6 together, you can now secretly move them as a single card and nobody will be able to notice this. In this shot, it looks like one card but it's actually two! (Pic 7)


Push the 2 cards forward, making sure to keep them together. (Pic 8)


| | |
| --- | --- |
| Pic 7 | Pic 8 |
Remove the stacked cards entirely from the deck, turn them around 180 degrees and lay them face up on top of the deck. (Pic 9)


You've now set the deck. Peel off just the spectator's chosen card and place it face up on the table (don't let them see the back or it will reveal the secret). At the same moment, flip over your hand that is holding the deck.
(Pic 10).


This puts that 6 of Diamonds that we retained earlier on the bottom of the deck…and remember that it has the previous card's number drawn on it, which would be: 5 of Diamonds, the chosen card ;)


| | |
| --- | --- |
| Pic 9 | Pic 10 |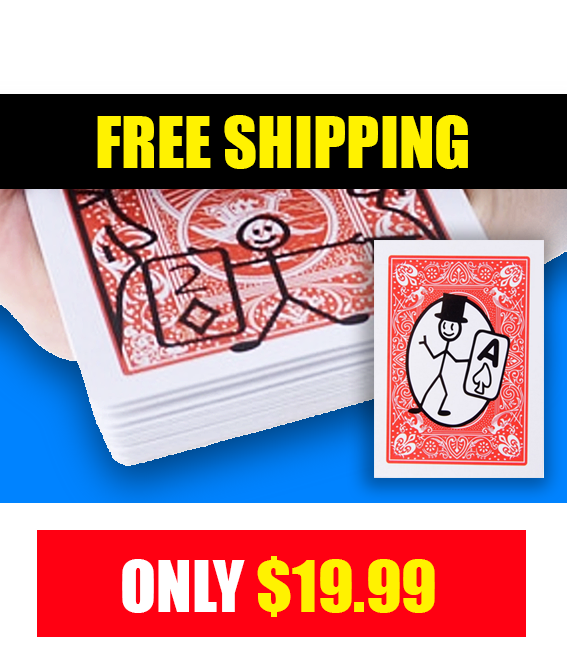 Cartoon Card Trick
Now all that's left to do is hold the deck like so and riffle through the it, playing the animation. (Pic 11)


When you get to the final card, stop there. It will show the spectator's chosen card that they picked with their own free will! (Pic 12)

This is a killer finish! You can use these magic tricks with cards at practically any event to make your audience freak out! It really is such a strong effect.


| | |
| --- | --- |
| Pic 11 | Pic 12 |
DID YOU KNOW? We now have a limited number of Cartoon Card Trick tricks in our Magic Store HERE.

*

FREE

MAGIC DVD!

*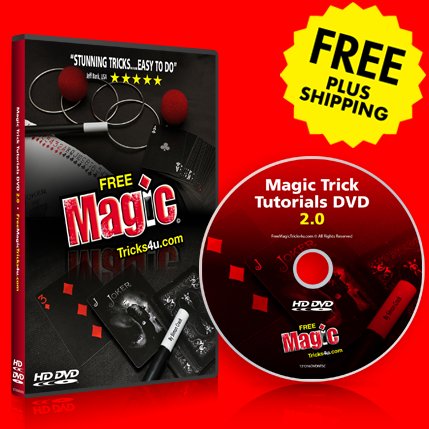 If you love magic check out my NEW Magic Trick Tutorials DVD 2.0, I'm currently running an offer on it where you get it for FREE - just cover my shipping and handling. Check it out HERE.

Also for a limited time get 7 FREE Bonuses including my Magic Vault a very personal collection 100's of digital magic eBooks!

E



JOIN FMT4U INSIDERS: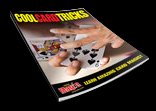 EEnter your email below for:

E• Free Membership to FMT4u Insiders
E• A FREE Magic Tricks eBook PDF
E• Updates when new tricks are added
E• Special deals ONLY for subscribers
Don't Worry: Your email address is totally secure, I promise not to spam you.

Click HERE for more Free Card Tricks

Return from Magic Tricks With Cards to FreeMagicTricks4u Home Page


---
LIKE THIS PAGE?