FREE STREET MAGIC
RSS BLOG

The Magic Blog is the finger on the pulse of FreeMagicTricks4u.com


• It lets you know the second new magic tricks are added

• Keeps you up-to-date with other news and special offers

• Points out some of the best free magic tricks you might otherwise miss

• Lets you know when I send out update emails to my subscribers (in case you don't like to give your email address, or if your ISP tends to over-filter causing you to miss it).


To subscribe to my Magic Blog (no email necessary), right-click on the orange RSS button (see the orange button on the right) and then paste the URL into your RSS reader. Or click on the My Yahoo! button or My MSN or Add To Google button if you keep a personalized home page there.


If you are not sure what RSS and blogging is all about, click here... What's an RSS Feed?


Once you begin, you will be amazed at what RSS can do, it's pretty cool!


Epic Matchstick Magic!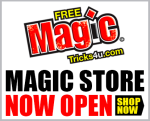 This has to the the best matchstick magic trick...
---
LIKE THIS PAGE?