EXCELLENT FREE COIN TRICKS


ANYONE CAN DO!


I love coin tricks! especially free coin tricks that are easy to learn and impress my family and friends.



Your Coin Tricks
The beauty of coin magic tricks is that coins are very much an 'every day' object, everyone carries them around and they are universally acknowledged. It's much more baffling to borrow a coin from a spectator and perform a trick off 'the cuff' than it is to show an illusion which relies on set-up or some prop.

Below are some of my personal favorites I'd like to share with you.

SOME OF MY FAVORITE FREE COIN TRICKS



Remember to check out and why not contribute to the coin tricks submitted by my sites visitors HERE.


By using a spectators coin or even better getting them to sign it, as in the Coin in Can Illusion.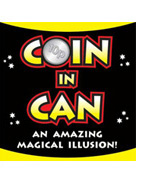 Made famous by Criss Angel (or shouldn't that be Chris Angel, Derren Brown or Darren Brown... Nevermind, went off on a bit of a tangent there!


Right - back on track - With a signed coin you take away any thought of gimmicks or trickery in the spectators minds. They signed the coin, it is definitely their signature at the beginning and end of the illusion. The tricks final impact is a lot greater for it!


"Tricks with coins date back almost to the beginning of magic and they are as popular as ever today" Mark Wilson (Professional Magician)


That quote was taken from Mark Wilson's Complete Course in Magic a great book for beginners (or even the more experienced magician) I thoroughly recommend it if you are just starting out in magic.
Learn Easy Magic eBook

Another fantastic course for beginners (and a few pearls for the more seasoned magician) is the Learn Easy Magic eBook collection. Created by the professional magician Bryan Dean you can learn magic with money, amazing card magic, mind reading and magic with everyday objects.


The four eBooks are not light in content either, each one is well over 50 pages. It's a great read and a lot of magic for the money. Not the best 'sales page' but if you get past that, I really loved the content. One of my favourite tricks is the "The Napkin Ball" so simple but very cool. Check it out HERE.


Your knowledge of these effects will enable you to build up effective coin routines without going into the more difficult manipulations which have created the wrong impression that "coin work is for experts", it's not and the easy coin tricks like Amazing Coin Balance in this section will prove it!

Wait a second! that's not to say these coin magic tricks will not need practice - they will! - but this is true of all good magic. My rule of thumb is practice at least three times in front of a mirror, twice in front of the dog then once in front of a partner or close friend who will not be too brutal if you mess it up! :-)


As well as free coin tricks this section will also cover tricks with notes. For example money folding tricks such as Cut and Restored Currency and Self Folding Note. These are just a couple of spectacular magic tricks you can do with folding currency, definitely two of my personal faves to perform, eye popping magic!
The free coin tricks I have chosen to show you are easy to learn, cool and most importantly get the best reactions from spectators.


Some of these coin tricks require an added gimmick which the spectator does not know you are using for example as in the Magic Spinning Coins others simply use the coins unprepared. One trick in particular uses a specially gimmicked pen to help you perform the effect. This cool trick is called PENny Change. An extremely visual transposition of two coins in the spectators hands.

Right, enough of my waffle! lets start learning some excellent free coin tricks, click on any of the images or text links above to learn the secrets!


(If you've read this far - I'm going to reward you. There is a sneakily hidden bill trick somewhere in this Free Coin Tricks section! Can you find the hidden link? :-)


*

FREE

MAGIC DVD!

*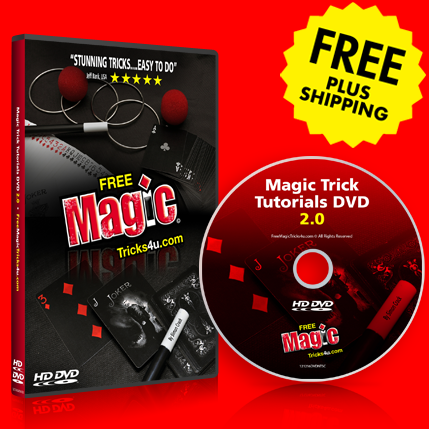 If you love magic check out my NEW Magic Trick Tutorials DVD 2.0, I'm currently running an offer on it where you get it for FREE - just cover my shipping and handling. Check it out HERE.

Also for a limited time get 7 FREE Bonuses including my Magic Vault a very personal collection 100's of digital magic eBooks!

E



JOIN FMT4U INSIDERS:
EEnter your email below for:

E• Free Membership to FMT4u Insiders
E• A FREE Magic Tricks eBook PDF
E• Updates when new tricks are added
E• Special deals ONLY for subscribers
Don't Worry: Your email address is totally secure, I promise not to spam you.

Click Here to Share Your Favourite Coin Tricks

Return from Free Coin Tricks to FreeMagicTricks4u Home Page


---
LIKE THIS PAGE?