FREE COIN MAGIC:

KILLER COIN VANISH

I call this free coin magic effect The Killer Coin Vanish because it does just that to anyone you perform to (well not literally!). People can not believe their eyes. It is a truly excellent coin trick you just have to learn!

READY FOR THE FREE COIN MAGIC SECRETS?

THE EFFECT: You borrow a coin from a spectator and hold it up for all to see. Slowly you begin to squeeze the coin with both hands until it vanishes!


You show your hands back and front, the coin is nowhere to be seen. This is such a clean, crisp and astonishing effect I love it...


Get our Magic Trick Tutorial DVD 1.0 HERE For TONS of Amazing Magic Tricks!


THE SECRET: There is such an easy secret to this free coin magic effect, however performed correctly no one will suspect a thing. Simply place a piece of double sided stick tape to the back of your hand.


As you pretend to squeeze the coin under the cover of your hands secretly slip the coin around the back of your hand onto the tape (pic 1). Immediately show your hands empty (pic 2).


The real killer is when you are able to show both your hands completely empty front and back. Now this move must be done fast and practiced in front of a mirror so you do not flash the coin that is stuck to the back of your hand.


As you turn both hands round make sure your empty hand covers the back of the hand the coin is on (pic 3). If not your trick could well be exposed!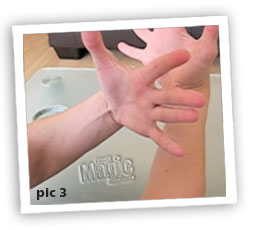 TIP: Make sure you press the coin firmly onto the back of your hand otherwise when you show your hands empty front and back the fast motion may send the coin flying across the room!


To make the coin reappear simply reverse the actions you did to vanish the coin. Close the hand the the coin is stuck to the back of and make a fist, reach behind the hand and remove the coin.


Place the coin into your fist then remove it showing the coin has magically reappeared!


TIP: Make sure it looks as if the coin is coming from your fist and not behind the hand. This is important or it may reveal the secret.


After the effect you can dispose of the double sided tape at any moment onto the floor or in your pocket. You are then left completely clean. Have fun with this free magic trick, it is a reputation maker.


*

FREE

MAGIC DVD!

*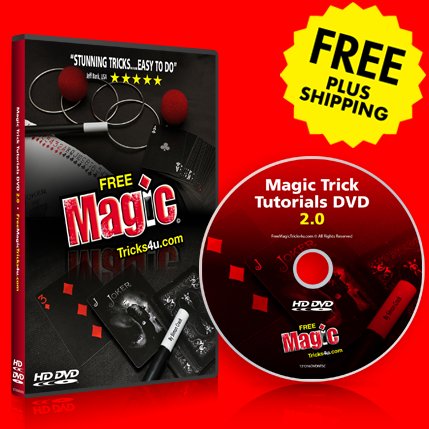 If you love magic check out my NEW Magic Trick Tutorials DVD 2.0, I'm currently running an offer on it where you get it for FREE - just cover my shipping and handling. Check it out HERE.

Also for a limited time get 7 FREE Bonuses including my Magic Vault a very personal collection 100's of digital magic eBooks!

E



JOIN FMT4U INSIDERS: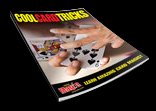 EEnter your email below for:

E• Free Membership to FMT4u Insiders
E• A FREE Magic Tricks eBook PDF
E• Updates when new tricks are added
E• Special deals ONLY for subscribers
Don't Worry: Your email address is totally secure, I promise not to spam you.

Click here for more Free Coin Tricks

Return from Free Coin Magic to FreeMagicTricks4u Home Page


---
LIKE THIS PAGE?