Easy Card Tricks:
Cool Card Vanish

This is certainly one of my favourite easy card tricks. It's a classic card trick that still amazes today. Yet the secret is so simple.


This trick is very versatile too it can be performed online (like this!) in person with a pack of cards or even on a T-shirt. Yes best of all you can carry this trick around actually on your T-shirt. Get yours from my CafePress store HERE.


THE EFFECT: Right lets try it out! I want you to look at the cards below and choose one. Do not click on your chosen card, simply keep it in your mind. Got one?.....great concentrate really hard on your card, I'm going to try something...Now scroll down using the bar on the right....

I have made your chosen card vanish! - Now how did I do that?


THE SECRET: If you have not worked it out already here is the simple secret. All the cards used in the trick are completely different. It does not matter which card you choose at the beginning because when you scroll down all the cards are different! Sneaky huh?


Although very simple in principle I bet it fooled you at first. That's what makes it so cool. Want to fool your friends? Email this page to them! (simply hover your cursor over the bookmark button at the bottom of this page and click on email, type in your friends email and click send).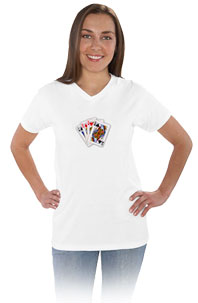 I have recreated this classic trick on a T-shirt. The playing cards are printed both on the front and back of the T-shirt! Below is an example of how you could perform.


Get a spectator to memorise a card on your back. Get them to concentrate really hard on it, then turn around and declare "I have made your card vanish!" Your spectators will be amazed!


This trick also works great on greetings cards, although I prefer to perform it with a T-shirt. If you want to get a T-shirt or greetings card for yourself simply visit my CafePress store HERE.


Click here for more Card Tricks


Return from Easy Card Tricks to FreeMagicTricks4u Home Page