Free Best Magic Tricks:
Ribbon Off Matchbox

"This is truly a great site, I've learned lots of new tricks."
Want to learn free best magic tricks? This next effect is great to perform out and about in a bar or club. It looks effective and at the end of the trick your spectators can have a go, but they will never be able to do what you just did!
THE EFFECT: You show an ordinary matchbox with a ribbon running through the middle, the ribbon is clearly shown going in one side and out the other. You get a spectator to hold both ends of the ribbon so that the matchbox is not going anywhere.


You cover the matchbox with your hands, give it a quick jerk and the matchbox penetrates right off the ribbon. The spectator can examine everything and even try and recreate your miracle. Of course they will fail miserably.


Watch the effect in action then learn the free best magic tricks!


THE SECRET: For this trick you are going to need two identical matchboxes (yes two!), some ribbon or string and a willing spectator.
(If you are not old enough to handle matches get an adult to remove them, they are not necessary for the trick).


Watch the reveal video below then I will discuss the secret in more detail.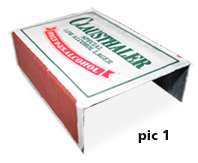 First take one of the matchboxes and remove the drawer. You can discard this, it is not necessary.


Take the matchbox top and cut the bottom panel off so you end up with a shell. You should have the sides and the top of the matchbox lid but not the bottom (pic1).


You may need to strengthen the gimmick by sticking some opened paperclips inside the matchbox so that it holds it's shape better. I actually have a thin piece of folded metal inside my gimmick. Before you perform the trick you need to place the ribbon (or string) on top of the real matchbox, then the gimmicked shell on top of the ribbon. (pic2).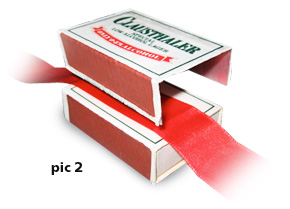 It will simply look like the ribbon or string is going through the matchbox.


You can open the matchbox slightly to show the ribbon is actually going through.


Now get a spectator to hold both sides of the ribbon, letting the matchbox hang in the middle. Show your hands completely empty then place one hand on top of the matchbox and one hand below it.


Give the matchbox three jerks and on the last jerk secretly remove the gimmicked top. Hide this in your hand and let the real matchbox drop on the table. While your spectators are stunned and looking at the matchbox secretly drop the gimmick on to your lap or place it into your pocket.


Now comes the fun bit. You are left clean and can get the spectator to try and recreate your trick. Of course when they try and do it they will fail!


For more free best magic tricks click below...
Click HERE for more Free Street Magic


Return from Free Best Magic Tricks to FreeMagicTricks4u Home Page