iPHONE APP:
JUMP MAGIC FREE
"Jump Magic FREE iPhone App - Easy to pick up, hard to put down! "
OUT NOW!
- Watch the trailer below...

WE LOVE MAGIC SO MUCH WE TURNED IT INTO AN IPHONE APP!


(Sign up HERE free to receive an email when I update the game or add cool new features - Don't miss out!)


Hey it's Simon Crack here,


A while back we finished our first iPhone App Game - 7 MONTHS in the making (yeh it was really hard work!). It's called Jump Magic FREE and it's really cool, if you have an iOS device then I think you're really gonner like it! You can download it VERY SOON from the App Store for iPhone, iPad or iPod Touch for FREE.



JUMP MAGIC FREE

Jump Magic FREE is a new endless jumping game like you've never seen before. With multiple characters, unlockable items, cool powerups and great HD graphics. This will be the game that keeps you coming back for more and more.



Unlike most iPhone App jumping games Jump Magic FREE has a purpose. During your adventure you collect "Stars". With Stars you can buy cool items within the game like new levels, characters, power-ups, in game music and more. (Oh and Yeh the main character is a cartoon of me! lol ;-) --->


Jump Magic FREE is fully integrated with Apple's Game Center so you can rank your high score with your friends and players all over the world and unlock achievements too. Here's the full low down of the game...



WARNING - CONSIDERED HIGHLY ADDICTIVE!

Grab your hat and cape, pick up your magic wand and get ready for a MAGIC adventure! Jump Magic FREE is here and It's awesome - easy to pick up, hard to put down.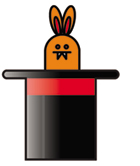 HERE'S WHY YOU'LL LIKE IT
Leap, float and fly from hat to hat at high speed, collecting stars and magical power-ups as you go!


• How far can you get without running into
the dreaded Evil Rabbit?
• Will you break your friends high score?
• Levels get fast and frantic - can you handle it?



IN GAME POWER-UPS AT YOUR FINGERTIPS

Instant in game, one touch power-ups. Collect in the level, buy more in the Magic Store:


• DOVE: Morph into a magician's Dove to FLY through the level
• RABBIT: Change into a fluffy Rabbit to jump MUCH higher
• POWER CAPE: Use the Power Cape to FLOAT sky high!
• CHECK POINTS: Collect Checkpoints to progress further
• Can YOU earn the EXCLUSIVE Power Wand?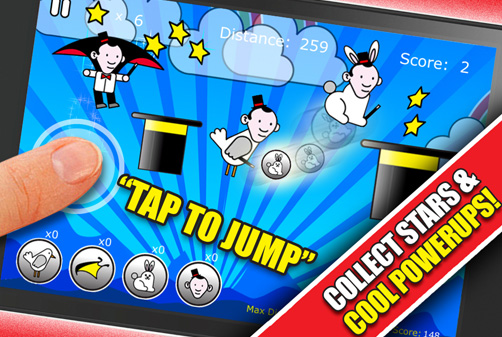 GAME FEATURES
• Choose from 3 EXCLUSIVE tracks to listen to in the game
• Play as a Male or Female Magician (unlock more characters)
• Buy upgrades, power-ups, levels and more music in the Magic Store



COOL UPGRADES IN THE MAGIC STORE
Use stars collected in the game to purchase COOL stuff in the Magic Store. With your collected stars you can buy:


• More Dove, Power Cape and Rabbit power-ups
• More Levels
• Unlock NEW characters
• CHEATS: Infinite Power-ups AND Increased Power-up time
• The EXCLUSIVE Power Wand (Tip: Makes you invulnerable to Evil Rabbit)
• Unlock Music Tracks to listen to while playing Jump Magic
• Unlock EXCLUSIVE Magic Trick videos from FreeMagicTricks4u.com!



AMAZING REPLAY VALUE
With Jump Magic FREE you'll NEVER get bored. With our random level generation technology, each time you play it's a different game play experience. Never play the same game twice.


GAME CENTER & FACEBOOK INTEGRATION
We've included support for Game Center and FaceBook this way you can easily show your friends who the Jump Magic FREE master REALLY is.


*

FREE

MAGIC DVD!

*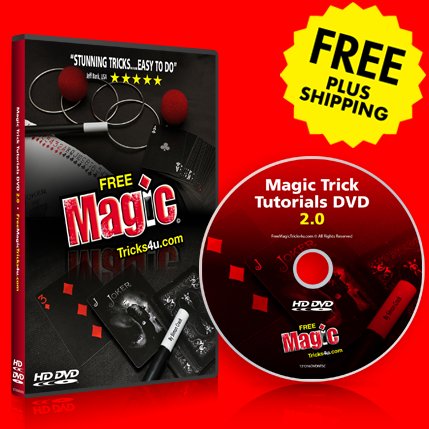 If you love magic check out my NEW Magic Trick Tutorials DVD 2.0, I'm currently running an offer on it where you get it for FREE - just cover my shipping and handling. Check it out HERE.

Also for a limited time get 7 FREE Bonuses including my Magic Vault a very personal collection 100's of digital magic eBooks!

E



JOIN FMT4U INSIDERS: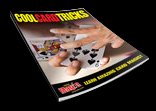 EEnter your email below for:

E• Free Membership to FMT4u Insiders
E• A FREE Magic Tricks eBook PDF
E• Updates when new tricks are added
E• Special deals ONLY for subscribers
Don't Worry: Your email address is totally secure, I promise not to spam you.

Click HERE to check out my Free Magic App!



Return from iPhone App to FreeMagicTricks4u Home Page

What do you think of the App?
Let me know below...
---
LIKE THIS PAGE?