MAGIC TRICKS:

APPEARING GLASS

New magic tricks are constantly being invented, however this one is possibly one of the oldest tricks. I remember reading this effect in a very, very old book. Even though I learned it many years ago that's not to say it's a bad trick. I really like it!

This trick is a "sneak peak" at what to expect when you pick up my new Magic Tutorial DVD 2.0 - 45 minutes of amazing but easy magic trick tutorials.



READY TO LEARN COOL MAGIC TRICKS?


THE EFFECT: You take an ordinary cloth and place it over your flat palm. Gradually you lift up the cloth until a shape is seen in it! You remove the cloth and a glass of liquid appears as if by magic!


The cloth is discarded and the glass can be handed out for total examination and can even be drunk! A great pub trick or stage illusion. Watch the effect below...


> Free Magic Trick Tutorial DVD 2.0 - Just Pay Shipping & Handling Click HERE <


THE SECRET: Pretty neat hey! As usual the secret is so very simple. Watch the reveal video below, then I will talk about it further...


> Free Magic Trick Tutorial DVD 2.0 - Just Pay Shipping & Handling Click HERE <



For this trick you are going to need the following...


YOU WILL NEED:
• An ordinary glass with a stem
• An elastic band
• A piece of cling film/plastic wrap
• An ordinary cloth


To prepare take the glass and fill it up about a third with any liquid. You do not want it too full similarly your audience needs to clearly see there is liquid in it. Make sure you use a dark liquid such as cola, again so it is easily seen.


Take a square piece of cling film/plastic wrap and fold it up into a small square that will fit over the mouth of the glass. Secure this in place with the elastic band (pic1). Turn the glass over and make sure the liquid is held in place without leaking - this is very important!


Take the glass and turn it upside down, place the stem of the glass between your fingers so the base is flat on your palm (pic2). With the same hand hold a cloth so that it covers your hand and the glass, you are now set to perform (pic3).


Show your spectators the cloth then reposition the hand holding the glass in the middle of the cloth without flashing the glass.


At this stage I like to stroke my flat palm with my other hand to show there really is nothing there, you don't have to actually say that, this move will clearly show this.


With the other hand grip the cloth in the middle and begin to pull it upwards toward the sky. At the same time begin to secretly turn the glass the right way up under the cloth (pic4).


When the glass is fully upright in your hand let go of the cloth and allow it to drop round the glass forming it's shape. At this point I like to grip the sides of the glass to prove that something is really inside the cloth (pic5).


As you remove the cloth you want to take the cling film/plastic wrap and rubber band off the top of the glass smoothly and in secret to reveal a glass of liquid! (pic6). Hide the cling film/plastic inside the cloth and just discard it. Spectators will have no reason to suspect the cloth, especially if you discard it in a very casual manner!


All that is left for you to do is to take a sip from the glass and hand it out for total examination. Your audience will be baffled!


TIP: Don't forget to check out my Magic Tutorial DVD 2.0 for 45 minutes of amazing magic trick tutorials and bonus goodies!


For more magic tricks click below...

Click HERE to Grab My New Magic Trick Tutorial DVD 2.0

Return from Magic Tricks to FreeMagicTricks4u Home Page

---
*

FREE

MAGIC DVD!

*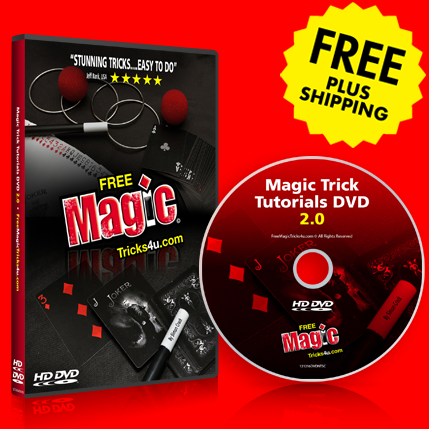 If you love magic check out my NEW Magic Trick Tutorials DVD 2.0, I'm currently running an offer on it where you get it for FREE - just cover my shipping and handling. Check it out HERE.

Also for a limited time get 7 FREE Bonuses including my Magic Vault a very personal collection 100's of digital magic eBooks!

E



JOIN FMT4U INSIDERS: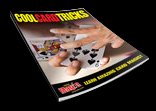 EEnter your email below for:

E• Free Membership to FMT4u Insiders
E• A FREE Magic Tricks eBook PDF
E• Updates when new tricks are added
E• Special deals ONLY for subscribers
Don't Worry: Your email address is totally secure, I promise not to spam you.
LIKE THIS PAGE?

FACEBOOK COMMENTS